Instructors
Emma Keating: Le Step Modern Jive, Gold Coast, Australia
Matthew Fairburn: Le Step Modern Jive, Gold Coast, Australia
Zac Skinner: Le Step Modern Jive, Gold Coast, Australia
Nikita Brown: Ceroc Norwest Auckland, New Zealand
Ethan Brown: Ceroc Norwest Auckland, New Zealand
Amanda Gourley: Ceroc Norwest Auckland, New Zealand
Yuvesh Sharma: Ceroc Norwest Auckland, New Zealand
Workshops
Happy Feet (Emma & Zac)
Footwork is vital for proper posture and movement while also providing aesthetic value.
Not only are there foot positions but also foot placement to consider.
Open this door and you'll enter a new world of artistic expression.
Sounds of Colour ( Emma & Matt)
Forget 50 Shades Of Grey – let's light it up!
Dance is all kinds of colourful so we're going to work on creating movements that reflect what you hear.
Handle With Care (Emma & Zac)
Focus on being a better partner by learning how to hold and move with another human being.
Learn where, why and when to use your hands, your body, and your feet.
Own The Floor (Emma & Matt) The concepts of stretch and communication.
Performance orientated workshops whether you're on a crowded dance floor or a competition dance floor.
How to use space to best draw the eye.
Mad Hatter (Emma & Zac)
Let's get some crazy happy feet that will get your creative energy flowing so hard that will have to handle with care! No vanilla allowed!
Wizard Of Oz (Emma & Matt)
"There's no place like home" and that's what it's all about.
Be the wizard and create some crazy, but, always come back to the basics to show control and finesses.
Don't Stop Till You Get Enough (Nikita & Ethan)
Focus on exploring the connections created within the dance and how these can help your dance feel smooth.
Not feeling connected then "don't stop till you get enough". Looking at where the connection begins and how to know it's ended.
Thinking On The Fly (Amanda & Yuvesh)
Things changes quickly on the dance floor, so we need to be able to adapt to changes in our environment.
Come and explore some ideas to change things up mid-flight when space is at a premium or someone else ends up in your spot.
Hands Free (Nikita & Ethan)
Let's get creative and dance hands free!
Exploring ways, the lead and follow can use other body parts to create new movements, shapes and utilise the dance space throughout a song.
Hidden Gems (Amanda & Yuvesh)
As important as it is to be attentive to your partner, it doesn't mean that they dictate everything you do.
There is heaps of space within the partnership to add your own hidden gems.
The best ones could be ones that even your partner won't spot.
Workshop Timetable
Saturday Workshops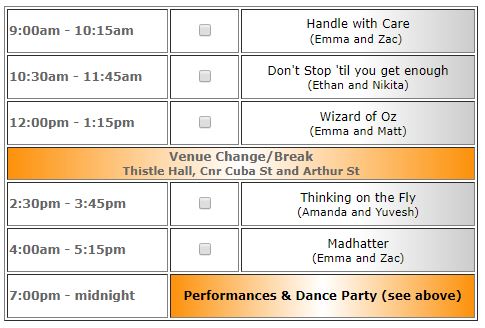 Sunday Workshops