Welcome to Ceroc Dance Christchurch Championships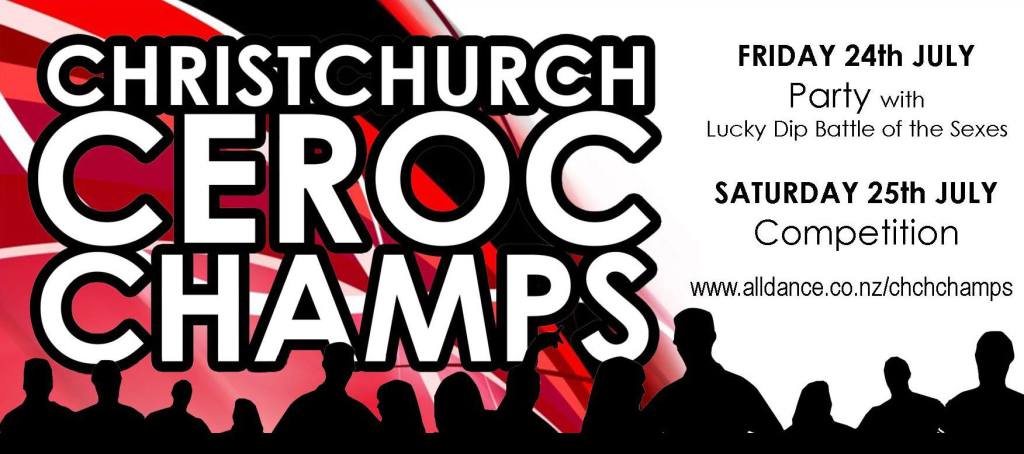 Registrations
Registrations for the Christchurch Ceroc Championships are now closed.
Event Dates
Friday 24th July: Dance Party, Lucky Dip BOTS heats.
Saturday 25th July: Christchurch Ceroc Championships.
Sunday 26th July: An audience with the top dancers & sightseeing.
Venue & Map
The Friday night Dance Party & the Christchurch Ceroc Champs will be held at the Hornby Working Mens Club, 17 Carmen Road, Hornby.
Click here to view location and map.
Pricing
Refer Ceroc Christchurch's website.
Competition Categories
Classical Events
Newcomers Freestyle & DWAS
Intermediate B Freestyle & DWAS
Intermediate A Freestyle & DWAS
Advanced B Freestyle & DWAS
Advanced A Freestyle & DWAS
Creative Events
Battle Of The Sexes (BOTS)
45 And Over Newcomer/Intermediate and Advanced
Enter either Lucky Dip or Music Mash Up
Enter either Triples or Steals
Cabaret Events
Teams
Showcases
Contact Us
For all inquiries, contact Deb or Matt Robinson on the following:
Mobile: 021 234 7064
E-mail: ceroc@alldance.co.nz
Competition Rules
Refer the 2015 Ceroc NZ Competition Rules and the Christchurch Ceroc Champs website for more information.