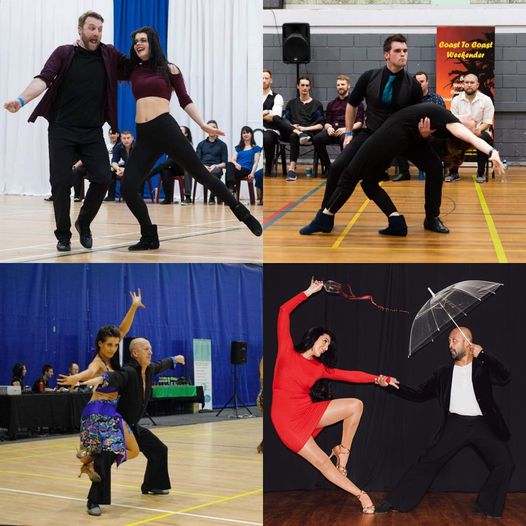 Sunday 5th September
Venue: Club Onehunga 2020 57 Princes Street, Onehunga, Auckland.
Workshop 1
Hannah and Ryan
12:00 pm – 12:50 pm Look Ma, No hands!
Head, shoulders, knees and toes, but no hands! In this workshop we will explore how we can use connection through the rest of our body to create shapes without hand to hand contact.
Workshop 2
Annysha and Mike
1:00 pm – 1:50 pm Dancing At The Extremes
This workshop is focused on giving you some tools to dance fast, slow and to different types of music. Prioritizing your senses to get you in tune with the various styles of music.
The moves or sequences will be relatively easy Intermediate level. The focus being more on style, techniques within the moves and adjusting to the different styles of music
Workshop 3
Alice and Nathan
2:00 pm – 2:50 pm The Duck-Turn Continuum
Join Alice and Nathan as they explore the four dimensions of duck turns. This workshop will give leads the skills to adjust their duck turns to fit any situation, and follows the ability to maintain balance and poise throughout their ducks.
Workshop 4
Vanroe and Michaela
3:00 pm – 3:50 pm Glass Half Full
Is your glass half empty or half full? It all depends on how you spin your partner
NZ Ceroc champs Vanroe and Michaela are doing a fun workshop all about how to dance with your favourite beverage in hand.
This open level workshop covers fundamentals like controlled spins, balance and smooth transitions mixed with drink friendly moves.
Learn how to blend your enjoyment of dance with your fave cheeky drink and head into the tea dance with new confidence.