Welcome to Cerocmania 2020 Auckland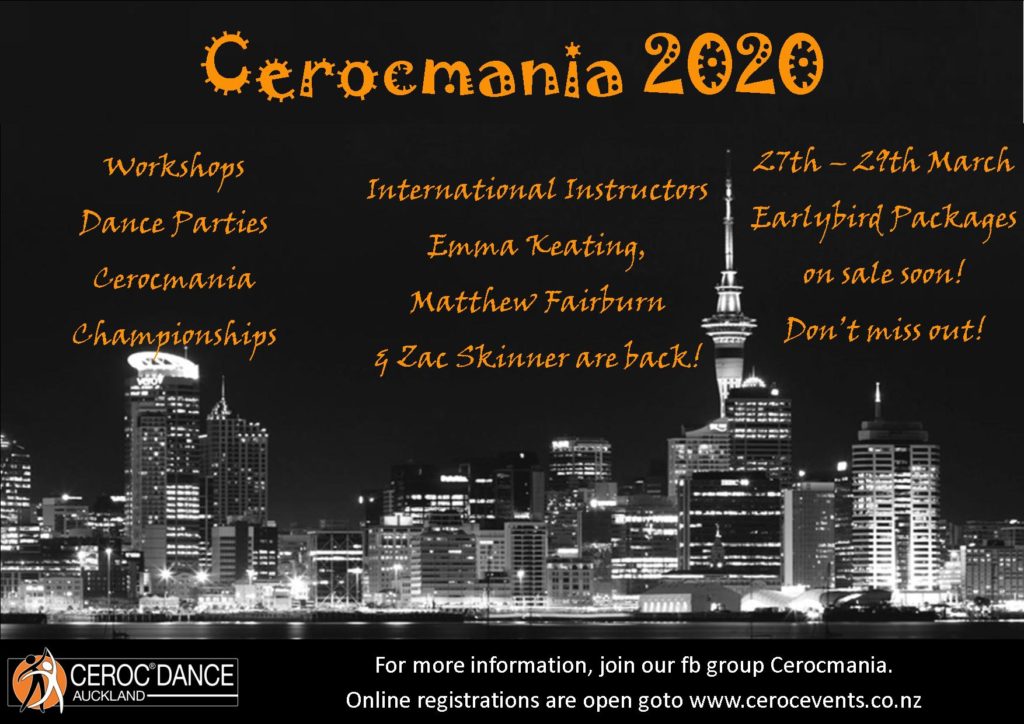 Registrations
Registrations for Cerocmania 2020 are open click on the following link to register:
https://myceroc.co.nz/registrations/
Information Updates
Information for Cerocmania 2020 and updates will be announced on this website and on Auckland Ceroc Events Facebook Find us and Like us!
Event Dates
Friday 27 March: Workshop, Day 1 Cerocmania Champs & Dance Party
Saturday 28 March: Workshops, Day 2 Cerocmania Champs, Sensational Invitational Spotlights & Champs Dance Party.
Sunday 29 March: Workshops & Tea Dance.
Venues
Friday & Saturday: Edgewater College, 32 Edgewater Drive, Pakuranga.
Sunday venue: Onehunga RSA, 57 Princes Street, Onehunga, Auckland.
Click here to view Venues locations & maps.
Workshops
Come learn some "Valuable Life Dance Lessons" with the Coasties from Le Step;Emma, Matt & Zac and our own Kiwis; Ethan Butler & Nikita Brown, current 2019 Ceroc NZ Champions.
Ethan Butler & Nikita Brown (2 Workshops)
Workshop 1 Gettin' Cheeky With It
A smile, a wink, a nod or even making use of your body. This workshop is all about how to present yourself whilst still maintaining connection and good partnering.
Workshop 2 Me, You and the Music
We have all danced to that song we don't know or necessarily like right?! Unlock some secrets with us in this workshop that allow you to always find your partner, yourself and the music
Emma Keating, Zac Skinner and Matthew Fairburn (4 Workshops)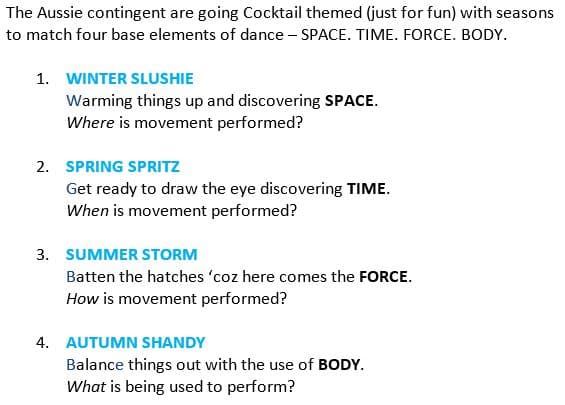 Pricing
All Inclusive Package A Early Bird $199 until 31st January 2020. Then $230 from the 1st February 2020.
Friday Dance Party
All six workshops
Competition Entry
Saturday Dance Party
Sunday Tea Dance
Keep It Social Package $50
Friday: Dance Party Pass
Friday: Champs Spectator & Social Dancing & Dance Party Pass
Saturday: Sensational Invitational Spotlights, Champs Spectator, Social Dancing & Dance Party Pass
Sunday: Tea Dance Pass
Individual Pricing
Friday Champs Spectator & Dance Party $20
Saturday Champs Spectator, Sensational Invitational Spotlights & Dance Party $25
Sunday Tea Dance Social Dancing Pass $20
Workshops $40 each
Cerocmania Championships Entry $75 unlimited category entry.
Competition Categories
The following categories are governed by the Ceroc New Zealand Competition Rules, Categories & Judging Criteria April 2018
The following local rules apply:
Champion and Advanced A & B pairings are not allowed, with the exception of Triples and Swaps & Steals, where one Champion and one Advanced dancer can team up with either an Intermediate A, B or Newcomer dancer.
Intermediate A, B & Newcomers can have like pairings.
The Categories are:
Adam & Eve (Intermediate B and above)
Battle Of The Sexes (All levels)
Blind Date (Intermediate B & above)
Ceroc X (All levels) Refer Menu above for allowable moves.
Infinity (All levels)
Potluck Pro-Am (Teacher & Newcomer dancers only)
Swap 'n' Steals (All levels)
Teams (All levels)
Triples (All levels)
Vice Versa (All levels)
YouChoose (All levels)
Contact Us
For all inquiries, please contact one of the following people:
Ross on 0275 252 007
Nikita on 0272 838 118
Mark on 0278 248 885
Vanroe on 021 763 3889
or e-mail at cerocmania@gmail.com