Nationals Champs Workshops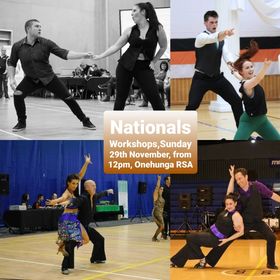 On Sunday the 29th November after the Champs you will get a chance to learn from some of our top dancers. We welcome a number of Advanced & Champion dancers whom will be heading up the workshop series.
Starting at 12.00 pm and finishing at 4.00 pm, the following instructors will be running four 50 minute workshops with a 10 minute break in between.
Workshop Order:

12:00 pm Ethan Butler and Nikita Brown
Take You Dancing:
What makes a dance enjoyable, fun and feel like the wholepackage? Well…..let us take you dancing and share a few tips, tricks and moves that we believe take social dancing to the next level!

1:00 pm Hannah and Ryan Phillips – Wood
Spicy Moves:
In this workshop we will bring you some moves we have been working on, some of which are new shapes exploring different connection points, and others are old moves revisted to breathe new life into them. We will aim to make these moves freestylable so you can do them with any partner and use them to create a fun and experimental dance!

2:00 pm Angela Metford and Anton Dorreen
Dips and Drops:
Beyond the Basics Taking the basics of drops and dips and applying them to more complex patterns such as: Nic's Bow Alicat Snake Swayback and more…

3:00 pm Mike Stanford and Annysha Deana
WOW Factor:
Taking simple moves and giving them the WOW factor. This workshop we are bringing you ladies styling!!! But its certainly not all about the follows… leads focus on creating the "space" within their moves for styling while maintaining that all important "dance conversation".