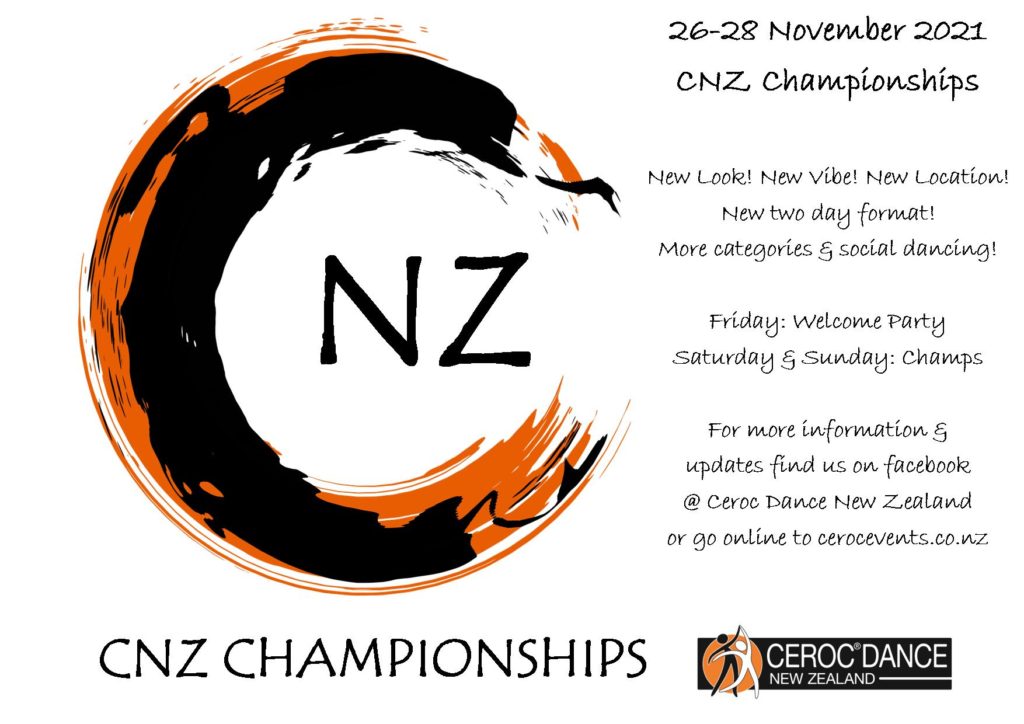 Welcome to the Ceroc NZ Championships (CNZ)
The Ceroc NZ Championships will be held on Saturday & Sunday the 27th & 28th November 2021 in Auckland.
Information Updates
Click on the following link to Like Us on Facebook and for information updates.
https://www.facebook.com/CerocNewZealand
Registrations
Registrations will open soon!
Event Dates
Friday 26th November Welcome Dance Party.
Saturday 27th November CNZ Championships Day 1 and social dancing throughout the day & night.
Sunday 28th November CNZ Championships Day 2 and social dancing throughout the day.
Venues
The Welcome Dance Party will be held at the Onehunga RSA, 57 Princes Street, Onehunga.
The CNZ Championships will be held at a new location in the heart of Te Atatu South Peninsula, Auckland. The address will be advised soon, watch this space for more details.
Click here to view Venues locations & maps.
Pricing
Dance Party entry: $20.00
Competitor entry: tbc.
All day Spectator & Social Dance entry: $20.00 for Saturday & $20 for Sunday.
Competition Categories
The 2021 Ceroc NZ National Championships are governed by the:
Ceroc New Zealand Competition Rules, Categories and Judging Criteria March 2021
Click on the above link to view these:
Classical Events
Newcomers Freestyle & DWAS
Intermediate B Freestyle & DWAS
Intermediate A Freestyle & DWAS
Advanced B Freestyle & DWAS
Advanced A Freestyle & DWAS
Champions Freestyle & DWAS
Creative Events
Open Freestyle
Pro-Am (Teacher Female / Newcomer Male)
Pro-Am (Teacher Male / Newcomer Female)
Adam & Eve (Advanced or Champion Female / Intermediate Male)
Adam & Eve (Advanced or Champion Male / Intermediate Female)
Adam & Eve (Intermediate A & B)
Additional Categories:
Ceroc X
Battle Of The Sexes
Triples
Swaps & Steals
45 & Over Intermediate
45 & Over Advanced & Champions
Cabaret Events
Showcase (Note there will be a pre-selection process, refer Showcase Rules)
Newcomer Teams
Teams
Enquiries
Call Ross on 0275 252 007 or e-mail on hq@ceroc.co.nz