Welcome to the 2018 Waikato Ceroc Championships
This event has now passed.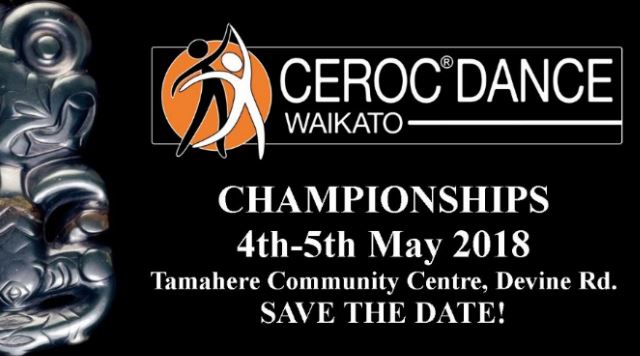 Registrations
Registrations are close.
Event Dates
Friday 4th May Welcome Dance Party
Saturday 5th May Waikato Championships
Venue & Map
The Ceroc Waikato Champs & Dance Party will be held at the Tamahere Community Centre, 21 Devine Road, Tamahere.
Click here to view map and search hotels and places to eat in Tamahere.
Program
Program not available.
Pricing
Dance Party $20.00
Competitor Entry: Table Seat $70.00
Spectator Entry: $20.00
Dance Party
One of the largest Dance Parties in the Waikato area with local dancers & dancers from all over the country coming together, for an event not to be missed.
Starting at 7:30 pm with a quick fire class followed by Social dancing till midnight. Door sales available.
Adam & Eve pairings will be announced at the Dance Party.
Competition Categories
Classical Events
Newcomers Freestyle & DWAS
Intermediate B Freestyle & DWAS
Intermediate A Freestyle & DWAS
Advanced B Freestyle & DWAS
Advanced A Freestyle & DWAS
Champions Freestyle & DWAS
Creative Events
Dance Off Intermediate
Dance Off Advanced
45 And Over Intermediate
45 And Over Advanced & Champions
Battle Of The Sexes
Triples
Open Freestyle
Adam & Eve Advanced Male / Intermediate Female
Adam & Eve Advanced Female / Intermediate Male
Adam & Eve Newcomers
Cabaret Events
Newcomer Teams
Intermediate & Advanced Teams
Showcase
Competition Rules
Refer the Ceroc NZ Competition Rules, Categories and Judging Criteria April 2018.
Contact Us
For all inquiries, contact Ross on the following:
Ross mobile: 027 525 2007
E-mail: hq@ceroc.co.nz